Where To Eat + Sip In Los Angeles
I got so many requests to create a Los Angeles food guide after my latest trip with my friend Kelsey (the blogger behind Fare-Toned!) that I knew I couldn't put it off any longer.
Traveling with gut heath issues can be tough (you can read my post on my top 10 tips to keeping your gut happy while traveling), but it's also helped me see traveling through a new lens.
I've been lucky enough to travel quite a bit in my life, from many trips in the United States to many in Europe as well, and I've learned to love it more and more as I've gotten older. I used to just go along with everyone else on trips because I didn't quite have my own sense of exploration.
But once my passions for health (especially gut health), nutrition and food grew exponentially, traveling took on a whole new meaning. I knew how I wanted to experience trips and cultures – through the food and the cute cafes. Now, whenever I go on trips, my family puts me on the "find healthy restaurant's" duty and I'm so not mad about it.
So when Kels and I started planning our LA trip we knew mapping out all the best spots and trying every healthy spot we could fit in would be a must.
This guide incorporates all of the spots we went (as well as spots I tried when I went to LA in 2018 as well), chunked up by proximity to each other. I also link to each restaurant, say what types of cuisine they offer (and if it's sit down, take away, casual, fancy, etc.) and which dishes I've tried and loved!

Note, I'm not from Lost Angeles, so sometimes I get a little confused on how close restaurants really are, but I tried my best to make it easy for ya'll. :) The word "website" is linked after each description!
|| Downtown Los Angeles ||
WILD LIVING FOODS: literally some of the BEST, most flavorful and unique food I've ever eaten in my ENTIRE life. And that's coming from a very-non-vegan gal. Do yourself a favor and get the almond butter cup vegan ice cream with the magic shell. I'm swooning just thinking about it.
WHAT: Raw vegan but also legume, grain, soy and refined sugar free (so also paleo friendly!) // casual sit-down or take-away // breakfast, lunch, dinner, dessert
I'VE TRIED: Spring rolls, butternut ravioli, spicy tuna roll, mango roll (with macadamia nut coconut rice), pueblo wrap, vegan ice cream with magic shell (this is literally a MUST get), vegan chocolate cheesecake
THEY ALSO HAVE THINGS LIKE: pancakes, cinnamon rolls, smoothie bowls, crepes, chia seed porridge, soups, pastas, avocado toast, nachos, pizza, rainbow wraps and tacos
SWEET GREEN: this spot is great for a quicker lunch/dinner option when you're wanting a giant-a** salad or bowl of some type. They were very generous with the avocado but skimpy with the meat, so beware. ;) They were also SO kind when I literally asked for EVERY ingredient list of the different sauces and roasted veggies and meats.
WHAT: Salads and grain bowls; vegan, vegetarian and paleo friendly // casual sit-down or take-away // lunch, dinner
I'VE TRIED: I did the "make your my own salad" option and loved it! They were very generous with the avocado which I loved and you could add TONS of toppings. They even mix up the salad for you which I know is minor but I loved that. I hate when my salads aren't well-distributed hahaha
THEY ALSO HAVE THINGS LIKE: Winter maple squash salad, buffalo chicken bowl, chicken pesto parm with quinoa, fish taco quinoa bowl, curry chickpea bowl, kale Caesar and hummus tahini salad
TENDER GREENS: this is the perfect spot when you want SIMPLE, but delicious. After a few too many vegan meals on me and Kels's non-vegan-tummies we were in need for simple meals with meat included. They have an awesome option to create a "plate" where you choose a protein, salad and side (like seasonal roasted veggies, potatoes, etc.)
WHAT: Seasonal eats; paleo friendly and some vegetarian+vegan options // casual sit-down or take-away // lunch, dinner
I'VE TRIED: I made my own plate with chicken, spinach salad and roasted seasonal veggies and it was SO good.
THEY ALSO HAVE THINGS LIKE: Mediterranean steak salad, grilled chicken cobb salad, happy vegan salad, grilled salmon bowl, sandwiches, etc.
BACKYARD BOWLS: Kels and I went here every single morning for breakfast (no joke). Partially because it was right next to the CorePower yoga studio we went to every day, but mainly because it was delicious. If you like smoothies, açaí bowls and IG-wrthy toasts - go here!
WHAT: Vegan and paleo friendly // Smoothie bowls, smoothies, avocado toast, breakfast bowls, coffee // casual sit-down or take-away // breakfast, lunch
I'VE TRIED: Coco-cado bowl (this was SO GOOD and creamy - I subbed almond butter for coconut oil and goji berries for granola on top), berry bowl (subbed coconut milk for apple juice and added almond butter), green the smoothie (not super exciting but good if you're looking for a healthy, refreshing option!), cashew milk matcha, americano (I'm an americano snob and this was bomb)
THEY ALSO HAVE THINGS LIKE: Pitaya bowls, ancient grain breakfast bowl, muesli bowl, pb&j quinoa bowl, avocado toast, power smoothie bowls, etc.
PHILZ COFFEE: If you know me you know I used to be addicted to coffee (no joke), but since June 2018 have stuck with decaf or the Four Stigmatic mushroom coffee (it doesn't seem to impact me in the same way). Despite that I still LOVE the taste of coffee and Philz did not disappoint me at all with their decaf dark roast!
WHAT: Coffee…. duh hahahaha
I'VE TRIED: Decaf dark roast (I'm boring I know)
THEY ALSO HAVE: To be honest I didn't really peruse their other drink options, but I know their "mint mojito" coffee drink is super popular! It even comes with fresh mint leaves in it! (I literally so saw many people order it while I was there)
THE PERCH: Okay, this isn't a health-foodie spot but it's really cool! Kels and I got the urge to find a fun rooftop bar to really soak up the LA vibes and this was the perfect choice. It's pretty fancy walking in, but the rooftop portion is super chill, had amazing lighting/seating and live music! It's RIGHT by Wild Living Foods for reference.
WHAT: Rooftop bar with live music // pretty fancy but we were fine in jeans/sweater and t-shirt dress with a denim jacket
I'VE TRIED: We both got the grapefruit martini because it sounded so refreshing and it was! Made with real grapefruit juice and it even had cucumber slices in it.
THEY ALSO HAVE: Ya'll I rarely drink alcohol so I really couldn't understand any of the menu… But they have lots of drinks! LOL
|| Santa Monica / Venice Area ||
(are those even close? we aren't quite sure ladies and gents. but I think so!).
EREWHON: If you like Whole Foods you will absolutely fall in love with Erewhon. It's like Whole Foods X 1000000. Didn't think that was possible? Well, it is! Yes, it's a grocery store, but their hot food section is literal heaven. They cook with healthy oils, have amazing vegan food that is ALSO paleo friendly (aka no soy, legumes, etc.), delicious meat and a killer tonic bar with smoothies, coffee drinks, etc. It's like a foodie's dream come true. Yes, it's expensive. Yes, you should totally ball out.
WHAT: Grocery store (but not your typical grocery store…) // casual take-away hot bar, tonics and smoothies // breakfast, lunch, dinner, drinks, snacks
I'VE TRIED: (From the hot bar) Salmon, chicken, killer cauliflower, tahini fried cauliflower, the brussel sprouts, tahini butternut squash, sweet potatoes, citrus salad, vegan pizza wrap, vegan eggplant lasagna, roasted carrots and chagachino (and probably more but I can't remember all I know is I am obsessed). Oh and their "tequila" shot (it's not actually alcohol - it'
THEY ALSO HAVE: Literally anything you can imagine ya'll. The most insane roasted veggies, vegan wraps, non-vegan (but paleo) wraps, salad bar, raw vegan desserts, fresh juices / tonics, etc.
GREEN LEAF GOURMET CHOP SHOP: This spot was super cute/trendy inside, had great outdoor seating and yummy food (and TONS of options)! They had a "make your own plate or salad" option which I went for. I love restaurants with that kind of flexibility!
WHAT: vegan, vegetarian and paleo friendly // casual trendy sit-down // brunch, lunch, dinner
I TRIED: I made my own salad with greens, almond crusted chicken (not as good as the almond crusted chicken at Revolve in Bothell, WA that I'm obsessed with, but still good), avocado and a bunch of veggies
THEY ALSO HAVE THINGS LIKE: Spaghetti squash casserole, stir fry, vegan Caesar salad, antioxidant orchard salad, kitchen sink cobb, steak salad, grain bowls, sandwiches, burgers, etc.
KREATION: To be honest Kels and I only tasted some juices, but I totally wish we had gone in for more! It's a great smoothie/juice joint, but also has yummy, healthy food options.
WHAT: Vegan and gluten-free (some paleo-friendly) // casual sit-down or take-away // juices, breakfast, lunch, dinner

I TRIED: Honestly… I can't remember which juices I tried but they were super yummy (wow nat, so helpful!!)
THEY ALSO HAVE THINGS LIKE: Your typical fruit and veggies juices, plant-based protein drinks, chicken quinoa bowls, vegan Caesar, hummus wraps, salmon and quinoa wraps, soup, chia pudding, zoodles with pesto, etc.
KIPPY'S: You haven't lived until you've had Kippy's dairy-free, refined-sugar free, paleo-friendly ice cream ya'll. Actually I think Wild Living's vegan ice cream may be even better/creamier, but Kippy's is RIGHT up there (and has way better superfood toppings!!). Honestly getting both while you're in LA is not an option. ;) This trip truly showed me how much I love ice cream hahaha
WHAT: Vegan, refined-sugar-free (sweetened with dates or honey), soy-free organic, paleo-friendly "ice cream" // made with a base of freshly made coconut cream // 5 ingredients or less
I TRIED: Chocolate chip, vanilla cappuccino, snickers (topped with dried baby bananas!). Snickers was my favorite!
THEY ALSO HAVE FLAVORS LIKE: Coconut honey, double dark chocolate, chocolate cream, strawberry cream, lemon cream, cinnamon date, orange cream, chocolate date, vanilla date, goldenmilk turmeric and kosmic matcha
AND SUPERFOOD TOPPINGS LIKE: Cacao nibs, goji berries, mulberries, raw salted caramel, bee pollen, chocolate magic shell, golden berries, spiced pecans, hot fudge, hemp seeds
FROZEN FRUIT CO: Okay wait this vegan ice cream is also so good. Truly at this point just make your entire Los Angeles trip about all of the vegan ice cream. I'm only partially joking. ;) This ice cream is a lot fruitier because the base always has bananas or berries. It's more like banana ice cream than actual ice cream if that makes sense! But still way creamier and better than Pressed Juicery. The toppings aren't as on-point as Kippy's though.
WHAT: Vegan, refined-sugar-free, soy-free, paleo-friendly "ice cream" // base of banana and coconut milk mostly (some are just fruit without even banana)
I'VE TRIED: Chocolate (I got it every time I went during my 2018 trip) with coconut flakes and carob chips on top!
THEY ALSO HAVE FLAVORS LIKE: Chocolate mint, chocolate orange, strawberry, passion fruit, blueberry, banana bread, salted chocolate, strawberry banana, mixed berry, raspberry & orange and banana pumpkin spice (seasonal)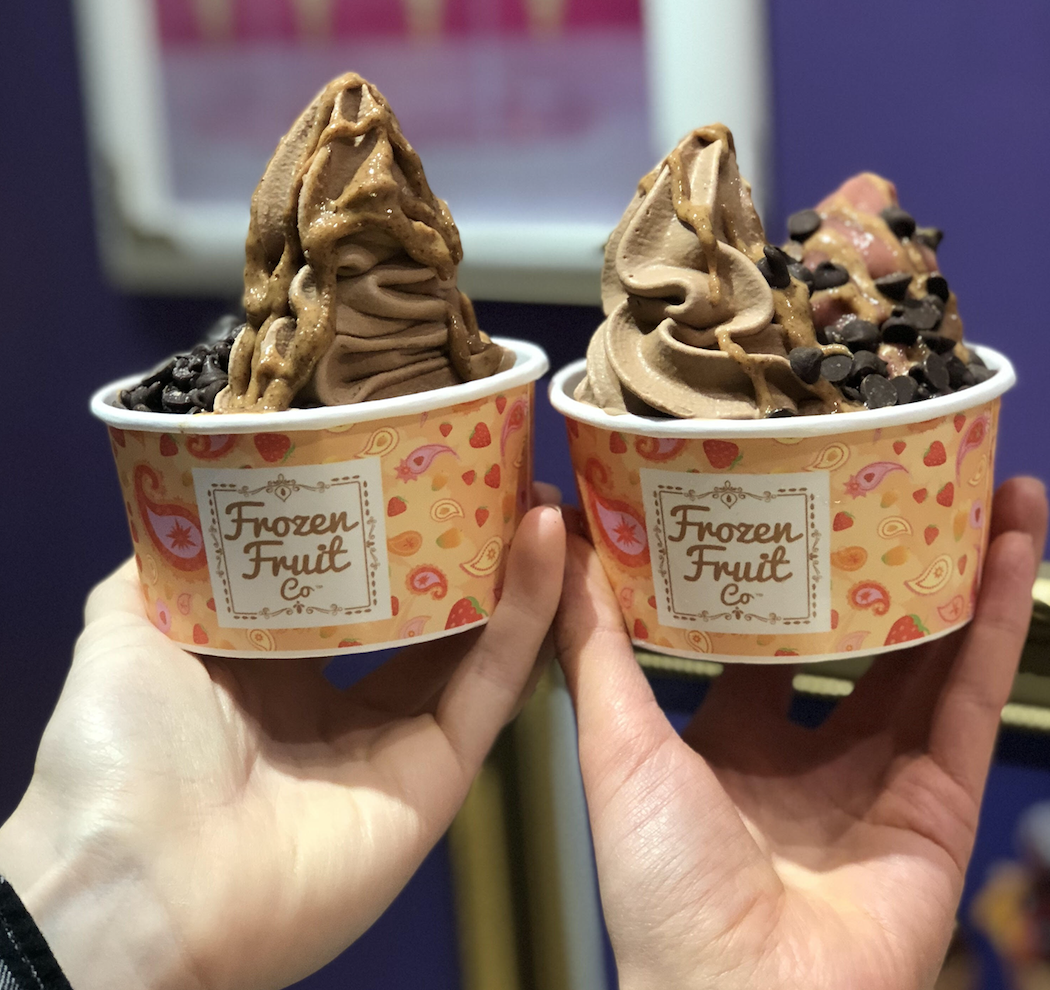 "You can't buy happiness, but you can buy (vegan) ice cream and that's pretty much the same thing"
PRESSED JUICERY: I feel obligated to add this because I realize not everyone lives right by a Pressed, but truly I would try one of the three vegan ice creams before making an effort to try Pressed. Just some wisdom from a vegan-ice-cream-loving gal. They also have pre-bottled juices and some make warm drinks in-store too! I will see Pressed freeze is a nice, light option if you're wanting something small (but not mind-blowing).
WHAT: Vegan, refined-sugar-free, soy-free, paleo-friendly ice cream // juices
I'VE TRIED: (All of the flavors lol) vanilla, chocolate, strawberry, matcha (at least those are the flavors the Pressed by me in Bellevue, WA have! I always top with berries, coconut flakes and the almond butter sauce
THEY ALSO HAVE THINGS LIKE: They have endless juice options (just veggies, fruity, a mix of both, charcoal lemonade, etc.) and wellness shots. You can also get your freeze in cones and top it with granola, chocolate chips, chocolate sauce or granola butter!
CAFE GRATITUDE (I've been to the Venice location): I only went for drinks (non-alcoholic lol), but it's a super amazing spot and the food sounds so yummy! The whole idea is that everything on the menu is named after like a positive mantra. So when you order instead of saying "I'll have the spicy Asian greens"," you would say, "I am genuine" (the words are next to the items on the menu). It's such a fun concept!
WHAT: vegan // casual/trendy sit-down // breakfast, lunch, dinner
I TRIED: A green juice I can't remember the name of and the ayurvedic latte ("I am immortal")
THEY ALSO HAVE THINGS LIKE: Avocado toast, chia overnight oats, flax pancakes, barbecue tempeh, chickpea quiche, ancient grains flatbread, buffalo cauliflower, salads, thai kelp noodles, sandwiches and wraps, TONS of roasted veggies options, vegan deserts, etc.
I mean just LOOK at how gorgeous that Ayurvedic latte is!!!!!!!!!!!!!
(chaga, shilajit, reishi, he shou wu, raw honey,
sprouted almond milk or coconut milk)

BEAMING: I went to this spot during my 2018 trip and had the BEST mint chocolate chip smoothie. It wasn't too sweet and they were super nice about making subs, etc.
WHAT: Vegan (but I still found options I could have) // smoothies, smoothie bowls, juices, superfood snacks/small meals // casual take-away (some seating)
I'VE TRIED: Mint chip smoothie (minus the vegan protein powder)
THEY ALSO HAVE THINGS LIKE: Smoothies and smoothie bowls galore (with awesome superfood add-ins), soups and salads, chia porridge, cashew brittle, superfood snacks and bites, maca pie, superfood elixirs. I also hear their chocolate chip cookie is to die for!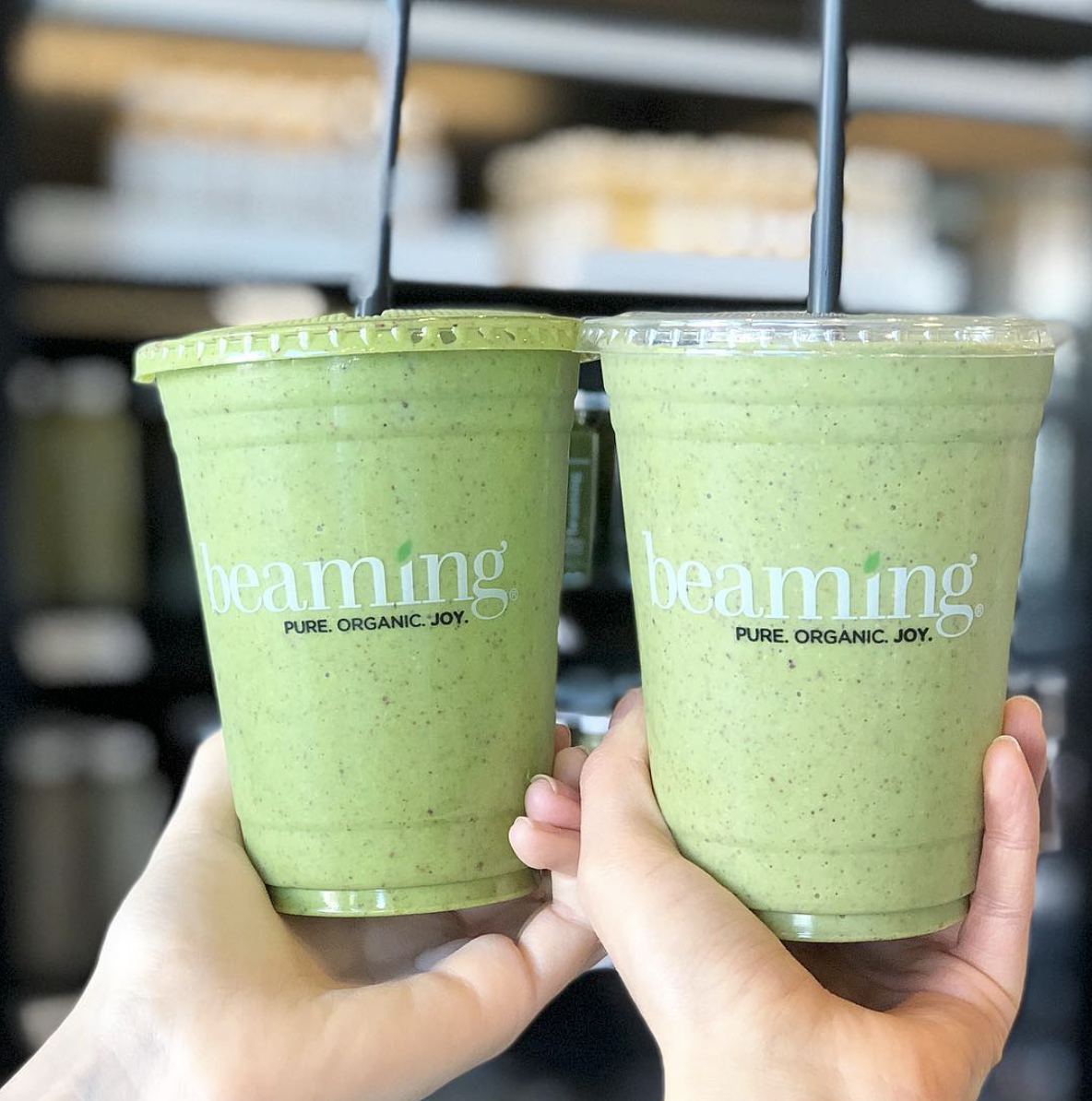 Mint Chip Smoothie (aka tastes like ice cream so ya'll know how much I loved it)
(minus the protein powder because not paleo-friendly)

SHROOM ROOM: This is a tiny space that's down a weird outdoor hallway thing and is SO easy to miss! The coolest part? They'll make you any free Four Stigmatic drink you want!
WHAT: It's a little Four Sigmatic pop-up shop that's literally so cute that gives out free mushroom drinks
I'VE TRIED: Well I literally have Four Stigmatic coffee every morning, but at the Shroom Room I also tried the chai latte and turmeric latte. I've tried their hot chocolate before too and it's amazing!

FLOWER CHILD: Their slogan is "healthy food for a happy world." I mean, what's not to love!? Super cute location and the food was super good. They were also really nice when asking for subs, etc.
WHAT: dairy-free, gluten-free, sugar-free // vegan, vegetarian and paleo-friendly // casual sit-down // breakfast, lunch dinner
I TRIED: I can't quite remember the name of the salad but I got salmon on it and a side of butternut squash and it was so good!
THEY ALSO HAVE THINGS LIKE: Chopped vegetable salad, Mediterranean quinoa salad, mashed avocado toast, Indian spiced cauliflower, avocado hummus, protein scramble, quinoa breakfast burrito, etc.
BRENTWOOD
I barely spent any time in this area, but it's super nice! I only went to a few drink spots.

ALFRED'S COFFEE: The home of "but first coffee." Very Instagram-able. Just being real! haha
WHAT: Coffee…. duh again hahahaha
I'VE TRIED: Ice Americano! Definitely passed the Americano-snob test.

ALFRED'S TEA ROOM: It's an extension of Alfred's Coffee (literally across the street) with tea and matcha galore! It's very pink inside too which obviously made me so happy.
WHAT: Tea… duh again again
I TRIED: I got a matcha and it was SO good!

MOON JUICE: Super trendy, super cute and super unique little treats, drinks and superfood powders for sale!
WHAT: Vegan // superfood "milks," smoothies and drinks; some raw-vegan treats
I TRIED: Truthfully I just perused and looked around!
THEY HAVE THINGS LIKE: Cosmic coco, spiritual strawberry smoothie, beauty dust shots, juices, matcha pearl "milk" (and tons other), golden tonic, moon dusted lattes and more.
OTHER
I didn't go to these spots, but have heard great things so they're definitely worth looking into!

TACOYA: vegan, vegetarian and meat-eater friendly // Mexican cuisine // casual sit-down // lunch, dinner
TRUE FOOD KITCHEN: vegan, vegetarian and meat-eater friendly // casual sit-down // lunch, dinner
BLUE BOTTLE: coffee
I hope this guide helps you explore LA through your tastebuds and helps keep your tummy happy and satisfied! XO nat